The following is effective as of March 25, 2020.
Amazon Chime now supports up to 250 connections for any meeting hosted by a user with Amazon Chime Pro permissions. IT administrators don't need to do anything special to let their users host larger meetings and there is no additional active host fee associated with this change. The new 250 limit is retroactive. Existing meeting invites don't need to be updated or rescheduled to support the larger limit.
This applies to:
Any meeting ID type:

personal meeting ID,
new meeting ID, or
moderated meetings.

Meetings started any way:

scheduled using meet@chime.aws,
initiated from a conversation or chat room, or
instant meeting initiated from the application.
We have also added logic to automatically reduce distractions associated with larger meetings. When a meeting grows beyond 25 attendees, Amazon Chime will now change the meeting experience in the following ways:
New attendees connecting from an Amazon Chime client, dialing-in or using Alexa for Business will be muted when they join.

Note: Amazon Chime does not automatically mute attendees joining from an in-room video system.

Roster notifications for attendee join, leave, drop or decline events are disabled for attendees using an Amazon Chime app.
Join and leave tones will not be played.
A message is sent in the meeting chat describing the change in the meeting experience.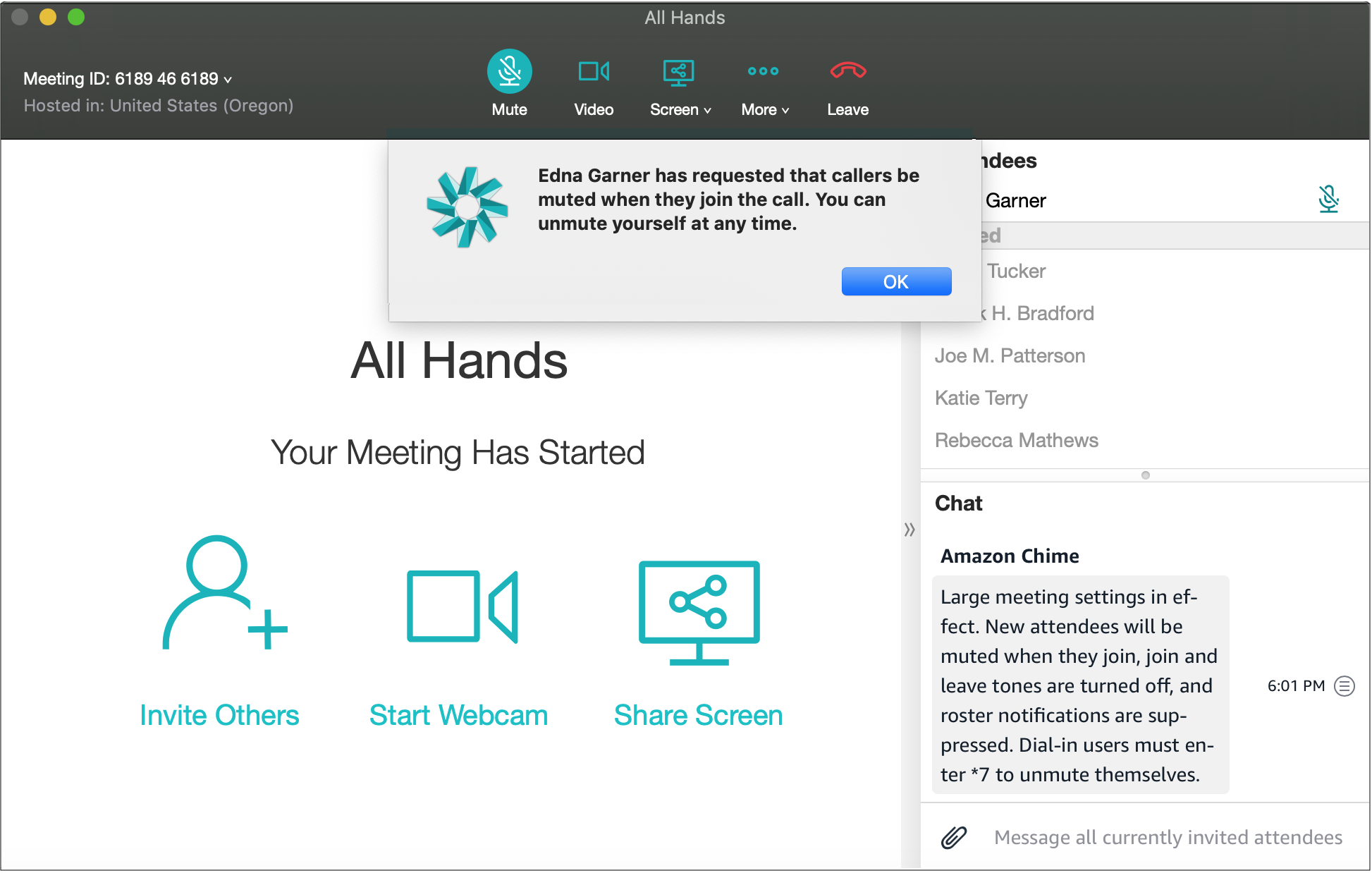 NOTE: For meetings that start with over 25 individual email addresses invited, the meeting will start with the new meeting experience. Currently there is a 300-item limit for the meeting roster which includes all users displayed under the Attendees, Invited, Left, Dropped and Declined sections. If the roster reaches the 300-item limit, attendees trying to connect are notified that the meeting is full and will not be able to join.
Large meeting best practices: