Features and Enhancements delivered in the July 17, 2017 Amazon Chime release.
Accessible presence indicators
The icons for representing Amazon Chime user presence have improved with revised colors and larger symbols to better communicate availability for color blind and low vision users. These accessibility improvements are available in all of the Amazon Chime native clients (Windows, OSX, iOS and Android).

Smarter chat notification message sync
Amazon Chime sends notifications for chat messages to all devices that a user is connected to (mobile and desktop). We connect directly to desktop clients. For mobile clients we use the Apple Push Notifications Service and Google Cloud Messaging to deliver notifications. We improved the message read sync experience so users won't see notifications multiple times when they are using multiple devices. Now, when a user reads a message on a desktop device, Amazon will remove (de-queue) the push notification sent to their mobile devices.

NOTE: Changes were made to the Windows and Android clients in the 4.5 release. iOS will be updated in the 4.6 release and OSX changes are scheduled for the 4.7 release.
iOS enhancements
If you are using an iOS device that includes support for 3D touch (iPhone 6S and 7 series on iOS 9 or later), you can now take advantage of a few new capabilities.
Quick respond or mute notifications from the lock screen
Notifications have gotten more powerful. Now a user can respond directly to messages from the lock screen or mute notifications for a conversation they would prefer not to be alerted about.


3D Touch actions on the home screen
3D Touch core actions are available which allow users to start an Instant Meeting or compose a New Message directly from the iOs home screen.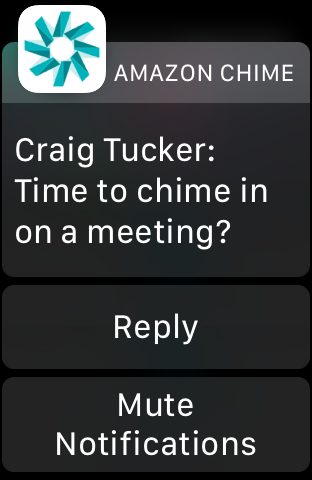 Quick respond or mute notifications from Apple Watch notifications
We've added support on the Apple Watch to allow users to reply directly to an incoming message notification or mute notifications regarding a conversation they are not interested in receiving alerts for.
Active Directory improvements
Active Directory provides a mechanism wherein a user can have multiple email addresses associated with a single profile. Previously, Amazon Chime did not have support for this and some users had a different Amazon Chime profile for each email address. We now match the Active Directory experience. If a user's primary email address changes in their Active Directory and it is still within a domain claimed by and associated with the same Amazon Chime company account, the email address displayed and used by the Amazon Chime profile will be updated (and a new Amazon Chime profile will not be created).
Quality
The team also worked on bugs and user experience across the entire platform. Here are a few noteable items that were addressed.
Meetings
Ensure that the meeting chat room unread count icon is displayed when the meeting chat is hidden and the user is viewing the meeting window in full screen mode (Windows)
Fixed issue reported when unplugging headphones during a meeting (Windows)
Content should be viewable from H.323 devices when an attendee is sharing their screen from a device running Windows 10 (Windows)
Display an informative error message when a user tries to start a meeting using their personal meeting ID and there is an ongoing meeting with the same meeting ID (Windows)
The meeting window should close when a meeting is ended and the "Choose meeting audio" dialog is displayed (Windows)
Automatically close the Join screen when the user joins with their 13 digit meeting PIN (OSX)
The option to include in-room video information should be checked by default in the Schedule Meeting assistant accessed from Meetings > Schedule a Meeting (OSX)
Existing attendees in a meeting should not be displayed in the "Invite Others" contacts list (OSX)
Provide a helpful message to a user that attempts to enables their webcam when the meeting limit of 16 video attendees has been reached (OSX)
Navigate to the meeting window when a user that is screen sharing selects the unread message icon from the floating menu (OSX)
Include tool tips on the meeting window for recording, event mode and locked meeting states (OSX)
On 1:1 calls, only display the other attendee's video when the user un-checks their "Show preview for my own video" option from the Settings menu (OSX)
Display the End Meeting dialog when the user that is the organizer is viewing in full-screen mode and chooses the Close [red] icon (OSX)
Display the "Reconnecting" message when an anonymous user's network connection is interrupted (OSX)
When Event mode is enabled, display the "You are now presenter" and "You are no longer presenter" notifications when a meeting attendee is added or removed as a presenter (OSX)
Chat
Play a sound and display the notification when a user receives a message in a chat room and the user has chosen the "Full" notification setting (Windows)
Show "Delete contact..." option after a user has been added as a contact (Windows)
Only open a chat room that is hidden when the user is @ mentioned (Windows)
Allow scroll after navigating to a conversation from search (OSX)
Navigate to the message displayed in the search result when the user selects "Jump to this message" (OSX)
Open a new 1:1 message tab when a new contact is added (OSX)
Don't show "Chat room deleted" message after meeting is ended (OSX)
Application icon in the dock should bounce when new messages are received if enabled in Amazon Chime > Preferences (OSX)
Include the shortcut key combination in the Call tool-tip for 1:1 and group messages (OSX)
Include the "Add to favorites" option in the right-click menu after that conversation has been removed from favorites (OSX)
Display the "Chat room deleted" dialog if a chat room is deleted and the user has the room open and in focus (OSX)
Do not crop the contents of a chat room banner notification when Amazon Chime is in the foreground and a message is received (iOS)
Support attaching .png and .jpg files (Android)
Other
Display the "About Amazon Chime" dialog when an anonymous user selects "About Amazon Chime" from the System tray (Windows)
Ensure app stability when the network is disconnected and a user clicks on another user from the Present/Not Present Member list in a chat room (Windows)
When auto update is deferred (e.g. because there is an active call), auto update will retry when call has ended (OSX)
Align the help text describing "Share availability information" in the Settings tab with iOS (Android)