Features and Enhancements delivered in the September 11th, 2019 Amazon Chime release.
Amazon Chime version 4.25 for Windows, macOS, Android and web is now available for all users. Version 4.25 of the iOS client will rollout in batches starting on September 10th and is expected to complete within seven days.
Edit Conversation Members [Windows/macOS/Android/iOS/Web]
When collaborating with others in a 1:1 or group conversation in Amazon Chime, you can now easily create new conversations by editing the members of your current conversation. As conversations progress, topics come up that are not relevant to everyone, or that require input from additional people. Now, you no longer need to create a new conversation and manually add the members required to continue the discussion. In just a few clicks you can enable editing of the members of your current conversation, add or remove anyone you want, and create a new conversation with just the people that are needed.
To edit the members of any conversation, open Chat Settings by clicking on the gear icon at the top right of the chat window. Choose the Edit Members option from the menu, and the list of chat members at the top of the window will become editable. As you add or remove contacts from the list, any shared conversation you have with the updated list of members will load. If you have not previously had any conversations with the updated list of contacts, a new blank conversation will load.
New Meeting Join Experience on Android 10 [Android]
Google has implemented new changes with Android 10 that changes how Amazon Chime can launch incoming Calls and Meetings. When you are running Android 10 and Chime is running in the background, notifications for incoming Calls and Meetings will now appear as a notification on your screen instead of immediately displaying the join screen. After you select the notification banner, you will be brought to the meeting join screen where you can answer, decline, message all meeting attendees, or let all other attendees know you are running late.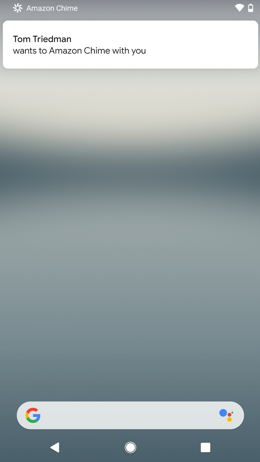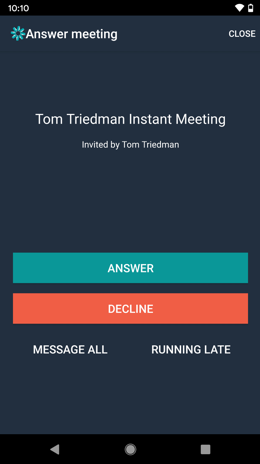 Amazon Chime Readiness Checker [Web]
Amazon Chime is simplifying its firewall requirements to minimize the chance of firewalls blocking media and reduce firewall administrative overhead. As part of this change, the Amazon Chime Readiness Checker is available at https://app.chime.aws/check to help IT Administrators know if they need to update their firewall rules.
The Readiness Checker will confirm access to UDP ports on the first and last IP address in the new media subnet. Note, it does not check access to the six existing media subnets, only the new media subnet. It also performs speaker, microphone, camera and screen share browser permission checks.
To learn more about the firewall requirements, see the Amazon Chime Administration Guide - Network Configuration and Bandwidth Requirements.
Other performance enhancements and bug fixes [Windows/macOS/Android/iOS/Web]