Features and Enhancements delivered in the Feb 7th, 2019 Amazon Chime release
Amazon Chime version 4.18 for Windows, macOS, iOS, and Android and on the web is now available for all users.
Meeting Attendee Removal [Windows/macOS]
Hosts and their delegates can now remove attendees from their meeting by clicking on a user's name in the conference roster, and selecting the
Remove from meeting
option in the menu. After selecting
Remove from meeting
, the user's name will be removed from the meeting roster. All other callers can continue the call, while the Chime meeting will be disconnected on the selected user's end and it will appear as if the meeting in no longer ongoing.
Hosts can use
Lock Meeting
, in combination with
Remove from meeting
to control precisely who is able to participate in their meeting.
Meeting Attendee Removal is currently available in the Chime desktop applications for macOS and Windows only.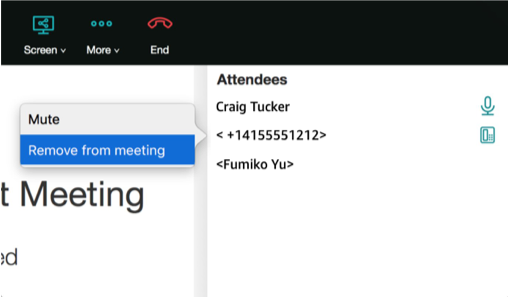 Dial-in and In-room video system attendee unmute assist [All clients]
Amazon Chime now includes the ability for meeting attendees who are signed into a Chime client to unmute attendees who are joined to the meeting audio from a phone or an in-room video system.

Meeting attendees today use the mute features in Chime to reduce audio and echo during meetings. Our customers have told us that while these feature are useful, it is challenging for an attendee to unmute themselves when they have joined from a phone or via an in-room video system, as the user must know how to access the dial pad and enter star 7 (*7).
Chime has added the ability for any user that can mute another attendee to click on an attendee name in the meeting roster and choose the "Unmute" option which is available if the attendee joined by dialing in or from an in-room video system. When an attendee is unmuted in this way, an audio cue is played, "Unmuted by another attendee. To mute, press star seven." and overlay text is also presented for in-room video system attendees. Attendees joined from a phone, in-room video system or other SIP or H.323 devices continue to be able to override Chime mute controls using the functions provided by their device; for instance, the button on the mic that lights up red to indicate that the device is muted, will take precedence over the Chime unmute request.
If you are dialing into a meeting or joining from an in-room video system, please be sure to use the hardware mute functions to mute your devices to prevent another attendee from unmuting you using this new Chime feature.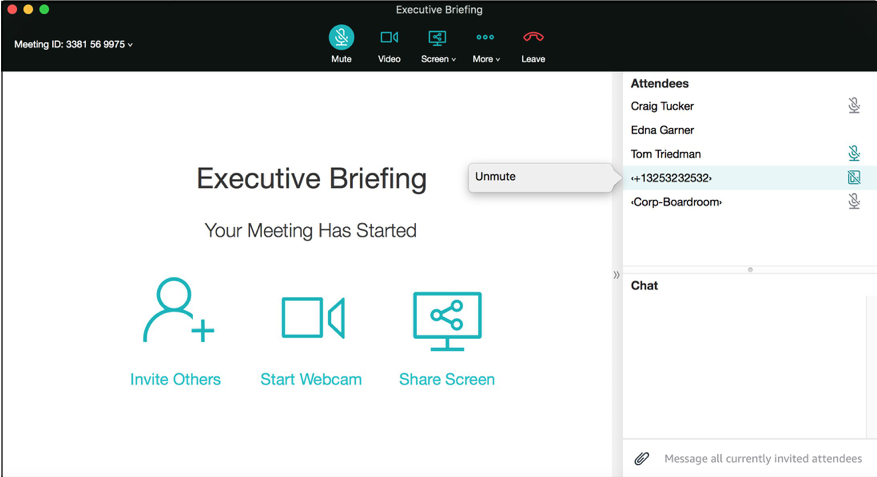 Note
: The option to unmute another attendee is not available when the selected attendee has joined using the audio from their computer or the Chime client, also referred to as VoIP audio. VoIP attendees must choose to unmute themselves.
Unmute your dial-in audio from the roster [All clients]
Attendees who join from a Chime application and chose to dial in for audio and enter the 13-digit PIN provided can now mute and unmute themselves directly from the Chime roster. Previously, attendees who joined this way were only able to unmute themselves by entering star 7 (*7) from their dial pad.

New audio cues for attendees joining from in-room video systems (SIP and H.323) [In-room]
Amazon Chime will now play audio cues to reflect the muted status for attendees who join from an in-room video system, SIP or H.323 endpoint. Previously overlay text was provided to indicate when the system was muted, but our customers told us that that the text was not always visible. The following cues will now be played:
When an attendee is muted, Chime will play the cue "Muted. Press star seven to unmute."
When an attendee unmutes themselves by pressing "*7" on the dial-pad, Chime will play the cue "Unmuted. Press star seven to mute."
When an attendee is unmuted by another attendee, Chime will play the cue "Unmuted by another attendee. Press star seven to mute."
Auto-adjust audio levels [Windows/macOS/Android]
Users can now choose not to have Chime optimize audio input and output levels by deselecting the option to
Auto-adjust audio levels
under
Preferences > Audio
in macOSand
Settings > Audio
in both Android and Windows clients. This option gives users complete control over their audio settings, but may lead to decreased audio quality (e.g., echo heard on the other end) in some situations. By default, Amazon Chime unmutes microphones and speakers at the start of meetings, adjusts audio input and output levels to optimize echo cancellation performance and reduce background noise, like the sound of typing. The default optimized settings are also saved from one call to the next, so users may see volume go up or down at the start of their call based on the values from their previous call.
Meeting instructions now include additional SIP option [Windows/macOS/web/Amazon Chime for Outlook]
Amazon Chime now supports the ability for SIP devices to join a meeting directly, bypassing the Welcome screen and meeting PIN entry via a SIP URI dial string in the following format: <meeting PIN>@meet.chime.in (e.g.
1234567890@meet.chime.in
). The meeting instructions generated in the desktop clients, web app and Amazon Chime for Outlook add-in will now include the SIP URI dial string so that users and devices that can be integrated with meeting invite instructions may consume this information and take advantage of an improved join experience from in-room devices and software SIP endpoints.

For more information on using the SIP URI dial string when joining a meeting, please see
https://answers.chime.aws/articles/107/in-room-vid...