Features and Enhancements delivered in the December 6th, 2018 Amazon Chime release.
Amazon Chime version 4.17 for Windows, macOS, iOS, and Android is now available for all users. This release contains chat enhancements, improved navigation, an updated scheduling assistant, and over the air updates.
Chat experience
Last Read Marker [Windows/macOS]
- When you return to chat rooms and conversations on desktop, you will see a marker indicating where you left off.
In-line GIF support [All clients]
- GIFs shared shared as attachments in chat messages now play in-line, not in a separate window.
Rich-text support using Markdown [All clients] -
Amazon Chime supports formatting your chat content with Markdown, using the CommonMark implementation. Prefix your chat message with
/md
and format using Markdown. You can also add code blocks by prefixing with
/code
. See
https://commonmark.org/help/
for more details about commands and using CommonMark.
For example, entering:
/md **Table Title**
* List item
* List item
* List item
Will result in this list:

Previews of external content -
Chime now includes a preview of content from webpages when URLs are included in chat messages.

Improved user experience for sharing content [Windows/macOS]
– You can now paste images directly from your clipboard, and drag and drop files anywhere in the chat pane, making it is easier to share content in chat.
Access to cached messages and attachments on mobile [iOS/Android]
– You can now access your cached messages and attachments on your mobile device, even when you have no internet connection or your connection is not stable.
Emoji picker [Windows/macOS]
– You can now select emojis from an emoji picker, making it easier to insert emojis in messages.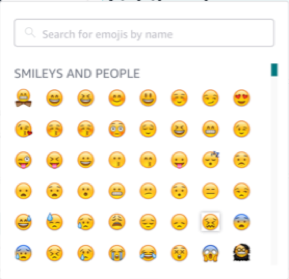 Content Accessibility Guidelines AA standard [All clients]
- The UI has been updated with color contrast to meet the Content Accessibility Guidelines AA standard.
Navigation
Home screen [Windows/macOS]
- On desktop, Chime has a home screen that displays chat notifications, current meetings, and meetings that will start within the next 30 minutes, so you always know where you need to focus your attention.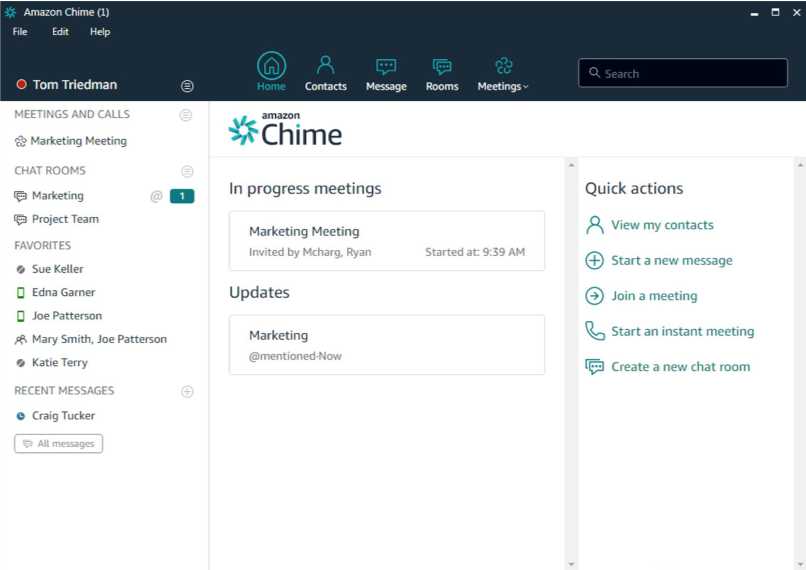 Updated search [Windows/macOS]
- Older content is easy to find in context, with a single search bar that searches across all chat content and contacts, providing results based on your current context first. Matching contacts, conversations and chat rooms are displayed as you type, pressing Enter displays all results. Search results are linked to the content in its original context.
Access to chat conversation history [Windows/macOS]
- You are now able to browse through your full conversation history with the All Messages button under Recent Messages. Clicking the button opens a window where you can browse through past conversations, ordered by last message received to most recent.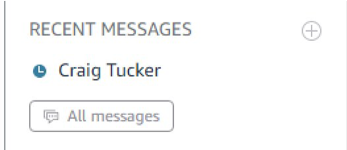 Consistent navigation between iOS and Android [iOS/Android]
- Whether you are using the Android app or iOS, you will find the same navigation with access to your Meetings, Contacts, Messages, Rooms, and Settings along the bottom of your screen.
Scheduling assistant
Updated scheduling assistant [Windows/macOS]
- The interface for scheduling meetings now has clear separation between the configuration of the meeting and the steps to schedule your meeting in your calendar application. These steps are split into two screens. On the first, you configure your meeting by selecting either your personal meeting ID or generating a new ID, selecting whether to provide in-room video system instructions, and choosing dial-in numbers to display in meeting details. On the second screen, you follow the steps to schedule your meeting in the calendar service of your choice.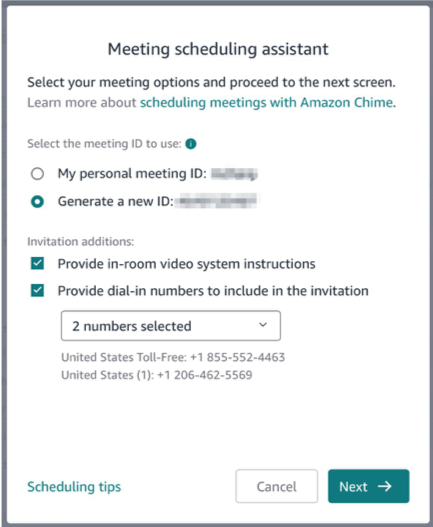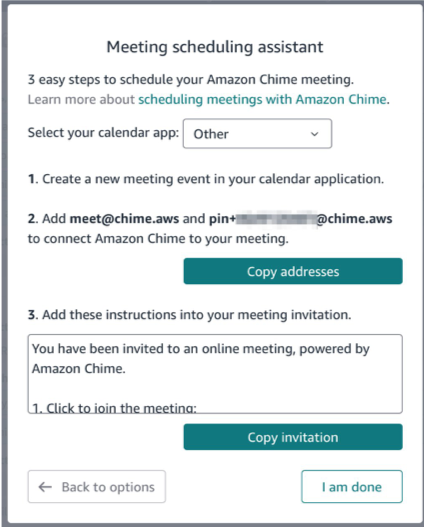 Client updates
Across all platforms updates have been made easier by providing minor updates "over the air." Minor updates typically include user interface changes, most often in the chat interface. On desktop, minor updates are downloaded automatically and the screen is refreshed with no need for you to take any action. On mobile, you will see a notification in the app that an update is available. Once downloaded, the screen is refreshed and updates are applied.
Major updates on desktop require you to download the update. On mobile, you will still need to update in the Apple App Store and the Google Play Store.