Amazon Chime has a meeting type, called a moderated meeting, which allows hosts to restrict attendee interactions until they or one of their delegates join or a moderator enters the passcode. Moderated meetings provide a higher level of meeting management, and reduce the chance of other attendees reusing the host's meeting bridge. Moderated meetings also allow attendees who enter the passcode, including those dialing in or joining from an in-room video system, to perform host actions such as meeting lock, recording, muting all others, and ending the meeting for all. There is no limit to the number of attendees that can be moderators during a single meeting.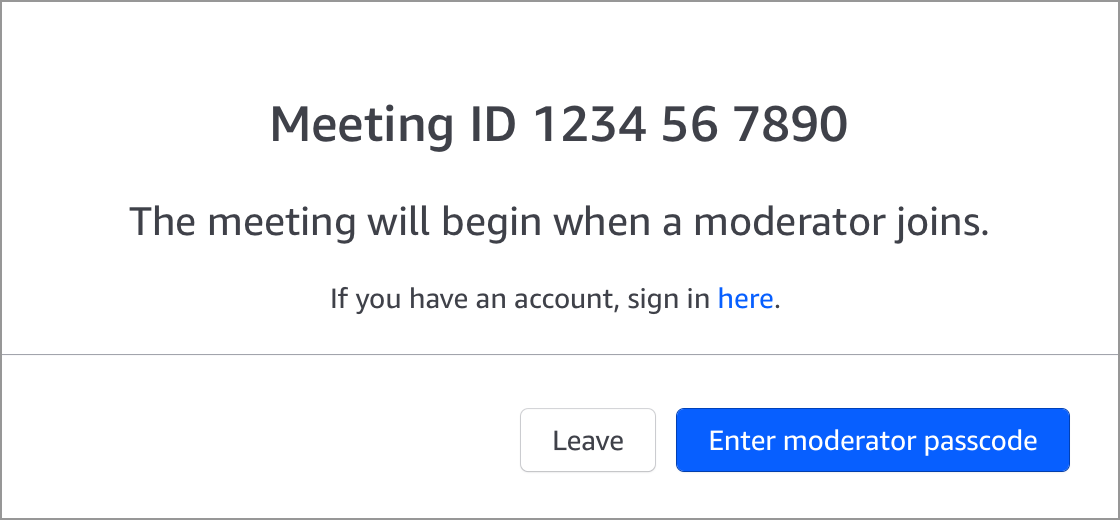 Hosts or their delegates choose the new option when scheduling a meeting and assign a 4-8 digit moderator passcode to the meeting ID. Amazon Chime will continue to auto-call attendees when meet@chime.aws is invited to a moderated meeting. While waiting for a moderator to join, attendees are unable to communicate via audio, video, screen share or chat, and the meeting roster is not displayed. Moderators, including those joining from an Amazon Chime client, dialing in from a phone or an in-room video system, can choose to enter the passcode and start the meeting.
To simplify the meeting start, when the meeting host or one of their delegates joins from an authenticated Amazon Chime client, they are immediately recognized as a moderator and the meeting starts without requiring them to enter the moderator passcode.
Once a moderated meeting is started, attendees who join are directly connected to the meeting – there is no waiting. Meetings continue until a moderator, host or delegate ends the meeting or when the Amazon Chime system automatically ends the meeting. The moderated meeting waiting status is only reset after a meeting has ended, even if all moderators leave the meeting.

For more information see:
The Amazon Chime User's Guide also has information on Amazon Chime meetings and more. https://docs.aws.amazon.com/chime/latest/ug/moderate-meeting.html