Version 5.10 Features and Enhancements delivered in the Oct 06, 2022 Amazon Chime release.
Amazon Chime version 5.10 is rolling out to users incrementally starting with Android, and iOS to follow. You should expect an auto-update to be available via the Apple App Store or Google Play over the next few months.
Highlights [Android, iOS]
Redesigned meeting experience

UI refresh

Improved audio and video performance

Up to 25 video tiles (previous limit was 8)

New roster screen

Addition of active speaker cues

Ability to raise hand from mobile

Improved meeting controls

New Join Meeting experience including Call me
Details below (Note: all changes are applicable to both Android and iOS unless specified)
Roster Screen Updates
The roster screen has been re-designed to lower cognitive load and provide more presence to users during a meeting. Each user will have a tile with their initials to make it easier to recognize who is on meeting. Here is the list of key changes to the roster screen:
Icons are presented on each tile to make it easier to identify when an attendee's mic is muted/unmuted and when they are sharing video or their screen.

Active speaker's icon is highlighted with a border to better indicate when someone is speaking.

Name formats under the tiles are re-ordered for easier readability (first name appears prior to last name).

Tiles are present different sections to indicate who is 'Present', 'Running Late', 'Invited' etc. to easily identify an attendee's join status.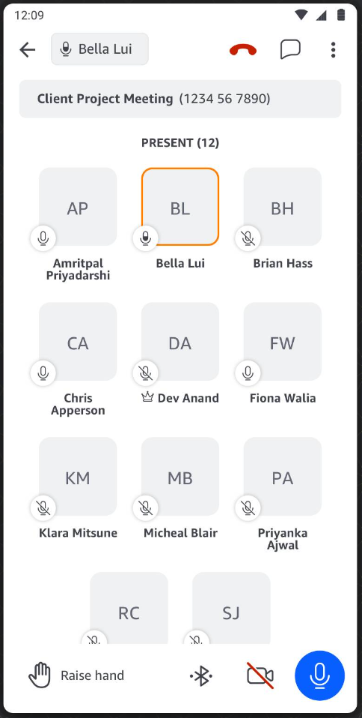 Refreshed UI
Color palette, fonts and icons have been updated across meeting and non-meeting screens of the app (including chat):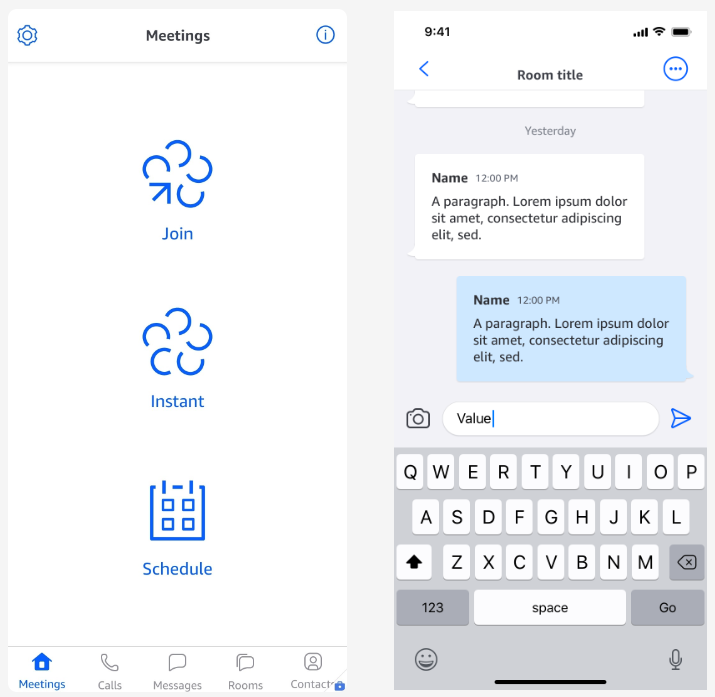 Meeting Controls
Several changes to meeting controls have been made following feedback on usability. We have made changes to improve layouts and indicators such as:
Better indication of mute vs unmute, and video on vs off.

Example - Mic unmuted and video off: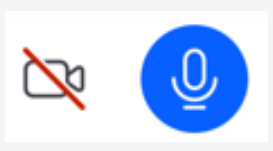 Example - Mic muted and video on: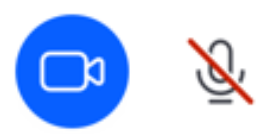 Users on mobile previously did not have access to the Raise Hands feature. This feature has been added in line with the audio/video controls. Users can tap the Raise Hands button to get the meeting attendees attention, and the control indicates when the hand is raised.

Other attendees are notified in the meeting chat when you raise or lower your hand.

Controls for active speaker, message and options have been moved for better visibility and to make room for the 'Raise Hands' control that has been added.

Spotlight View
To make it easier follow the active speaker in a meeting, a spotlight view is now available that automatically displays the video of the user identified by Amazon Chime as the active speaker (when their video is turned on). You can swipe to the spotlight view when it is available.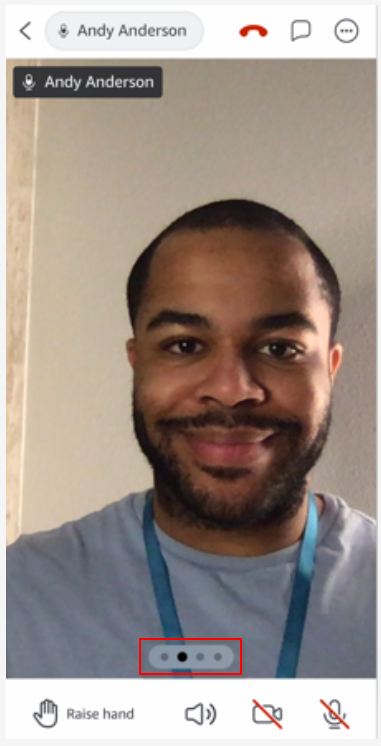 You can also choose to 'Feature video' to override Amazon Chime's default spotlight view in favor of viewing another attendee. In 1:1 calls, this view defaults to picture-in-picture when both attendees have their videos turned on: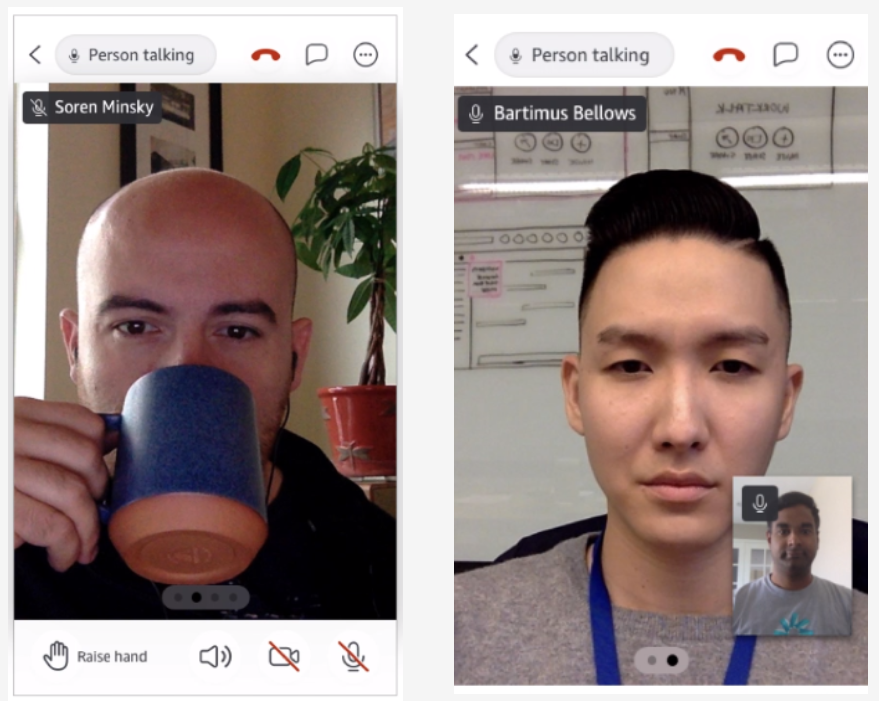 To feature a video, tap on the participant's roster screen icon and use this option: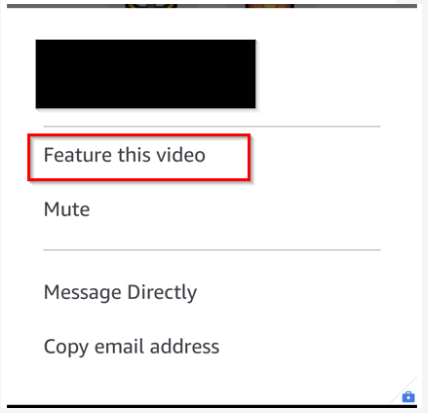 Up To 25 Concurrent Video Tiles
Amazon Chime now supports up to 25 concurrent video tiles, which is an increase over the previous limit of eight tiles. Use the pagination controls to navigate between available video screens, the roster, spotlight etc. Video of the active speaker for group calls is highlighted with a border for easier identification.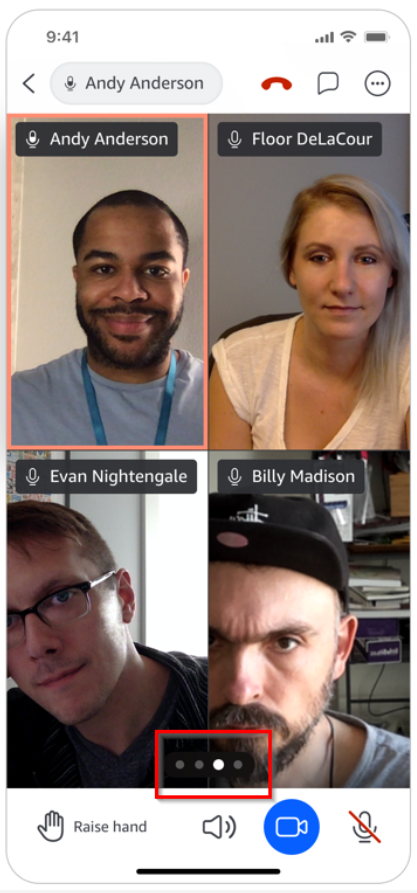 Join Meeting Experience
The meeting join experience has been redesigned to allow for faster joins and to provide better access to controls. Changes include:
A new join meeting screen that presented for meeting rings as well as when joining a meeting from the meetings screen.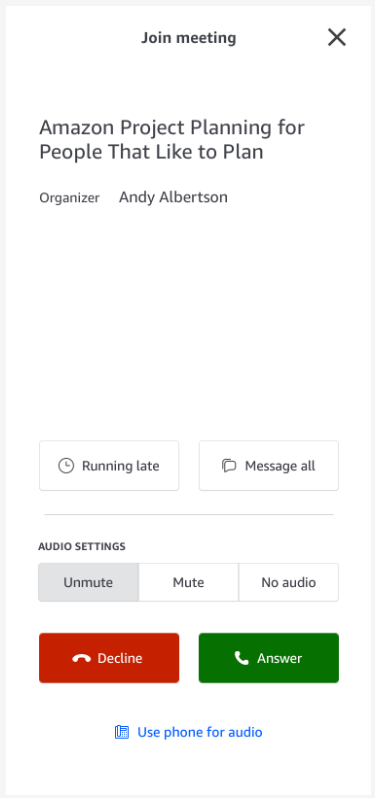 This screen has the following controls combined for easier access prior to a meeting:
| | | | |
| --- | --- | --- | --- |
| Running late | Message all | Audio settings to join as unmuted, muted or without audio | Answer/Decline and options to Use phone for audio to either Dial-In or have the meeting call you (explained later). |
| | | | ` |
Dial-in access from new join screen
In regions where available, the one touch 'Dial-in now' option is available from the 'Use phone for audio' control for easier access when joining a meeting.
Note on iOS 15.4 devices: Users would need to enter '#' after clicking 'Dial-In' when on an iOS 15.4, or wait 15 seconds to join without entering '#'.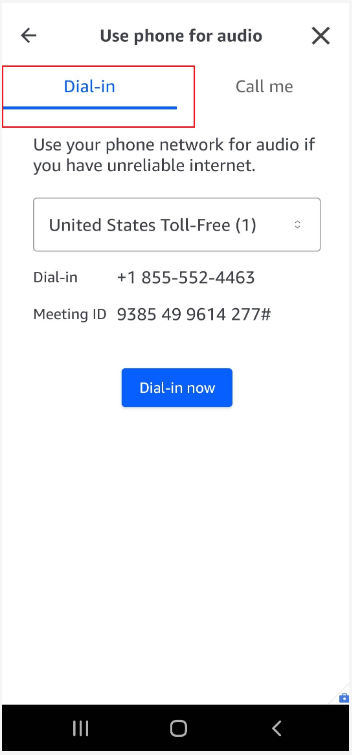 Call me
In regions where available, the Call me feature already available in the desktop Amazon Chime app has been added under audio options. Users can provide a PSTN phone number and request the meeting to call that number for meeting audio. For example, the number could be for a personal phone or a conference room phone. The Call Me feature is only available in certain countries, which can be selected using the country drop down menu.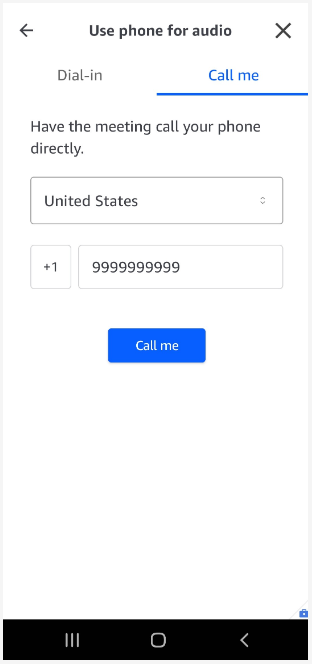 Accessibility Improvements
Improvements to accessibility have been made across the meeting experience. These changes include:
Consistent screen reader support - alt text callouts for controls, video, menus, and improvements to nameplates according to best practices.

Keyboard support improvements - focus logic on all controls and options.

Readability improvements - contrast adjustments and visual support for enlarged text sizes.
Performance Improvements and Optimizations
Video tiles that are not actively being viewed by the user are paused for the user, while in the background, to reduce data consumption and improve performance.

Amazon Chime SDK is now being leveraged to connect to backend Audio/Video for optimizing bandwidth and data consumption.
Other changes
Security updates.

Additional metric collection for client-side app usage.

Device identifier changes for Google Play compliance. [Android only]

In-app notification when a new version is available.

Added a timeout and message for callers in 1:1 calls when the recipient does not answer the ring.

Support for a newer content-based screenshare that offers better performance. Improved controls for screenshare where you can see who the active speaker is, pinch or double tap to zoom, tap to hide/unhide controls, and pan.

Added a 'Delete account' option in the 'Settings' page to allow users to delete their account, when signed-in with an Amazon account. Users will be re-directed to close their Amazon account. [iOS only]

Bug fixes
Fix for issues where the meeting ring would continue on phone after it had been answered on another device.

Fixed issue for 1:1 calls where a meeting ring would not be dismissed when a recipient would use the 'message' option.