Amazon Chime Windows and macOS clients now use Amazon Voice Focus to reduce certain types of unwanted noise during meetings. Amazon Voice Focus reduces environment noises like wind, fans, and running water; background noises like lawn mowers and dogs barking; foreground noises like keyboard typing, shuffling papers, and crunching potato chips.

Amazon Voice Focus is turned on by default while attending meetings and provides noise suppression for supported devices(*). If there is audio that you do not wish to be suppressed, for instance you are sharing your audio device with another attendee in the same meeting room or some background audio like music is intended to be shared, uncheck the Voice Focus (noise suppression) option found under the More menu. The setting will be remembered when you attend your next meeting using the same device. If Amazon Voice Focus is not supported on your device, the option will not be listed in the More menu.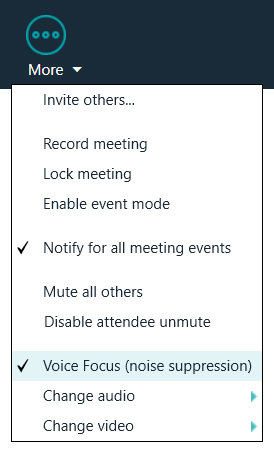 (*) Amazon Voice Focus is available for devices with the following specifications:
Windows machines with 4th generation Intel processors or higher (or equivalent AMD processors), and OS Windows 7 SP1 or higher.
macOS machines from 2007 or newer.
For more information please see the Amazon Chime User Guide documentation and the Amazon Science blog.